Sustainability & Innovation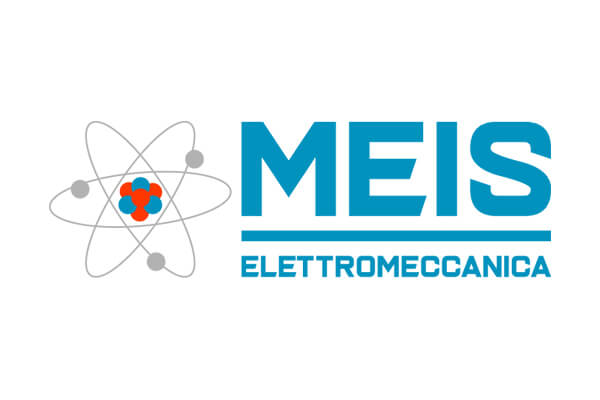 Meis Elettromeccanica srl, company of repairs of any type, voltage and power electric rotary machines arose by the work of Francesco Marzullo (1903), repairs pioneer during war and immediate post-war period. lt's in that time that his company developed progressively, thanks lo the wisdom and the use of new technologies which allowed him lo reach more and more striking goals, setting his company among the leaders of the field. Meis, rose on this presupposition, thanks to a continuos investment policy aimed to satisly the needs of the customers; actually il has of a structure whose area covers 10000 square meters (6000 square meters of covered area) equipped with the most sophisticated equipment to carry out all the repairs applying advanced manufacturing standards.
Today, Meis is a point of reference and excellence delivering efficacious services. both in national field and non-european countries, for manufacturing companies, energy producers and trolley-railway transport companies.
Acheived results are the natural consequence of the policy that the company pursues: care in the research and aquisition of new technologies, quality test, staff training. These elements have helped MEIS srl in reaching results of a so high reliability of working according to national and EU laws.
EAST Partnership with MEIS covering the following portfolio:
Coiling
Assembling
Impregnation
Testing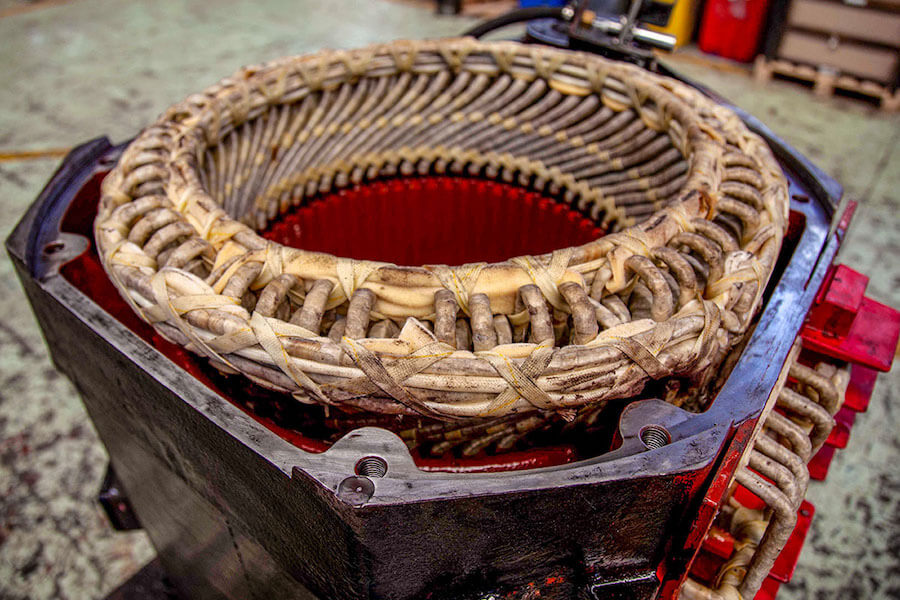 Coils realization requires manifold toolings, according to the coil type and the applied technology.
Meis productive plants:
Winders equipped with velocity control, steering and braking system wires, fit for the construction of rolling coils max 3000 mm in length;
Pneumatic machine for the opening and making coils;
Elecricpneumatic presses shiman for hotpressing of active tracts achieved with insulating materials (samicatherm).
The technologies of global vacuum soaking, for wich Meis has the respective know-how and specific equipments can be used on every king of coil.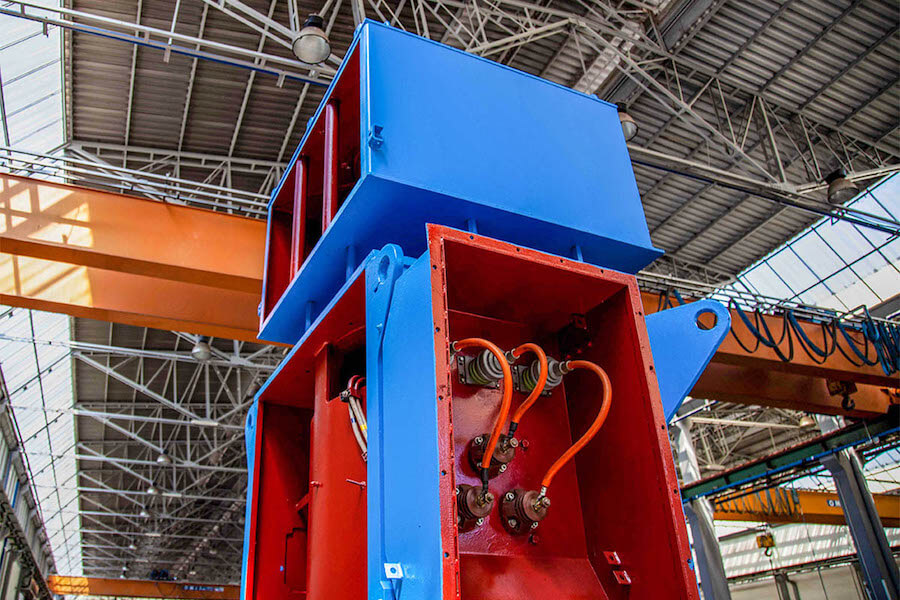 Electric rotay machines subjected to coiling are preventively checked to find out causes which have producted the problem. They study possibilities eventual applicable modifications to the original characteristics of design.
These activities improve the reliability and endurance performances of the machine so that it will be able to stand adequately electrodynamic phenomena in rise phases, high temperatures, to preserve it from atmospheric and or chemical agents.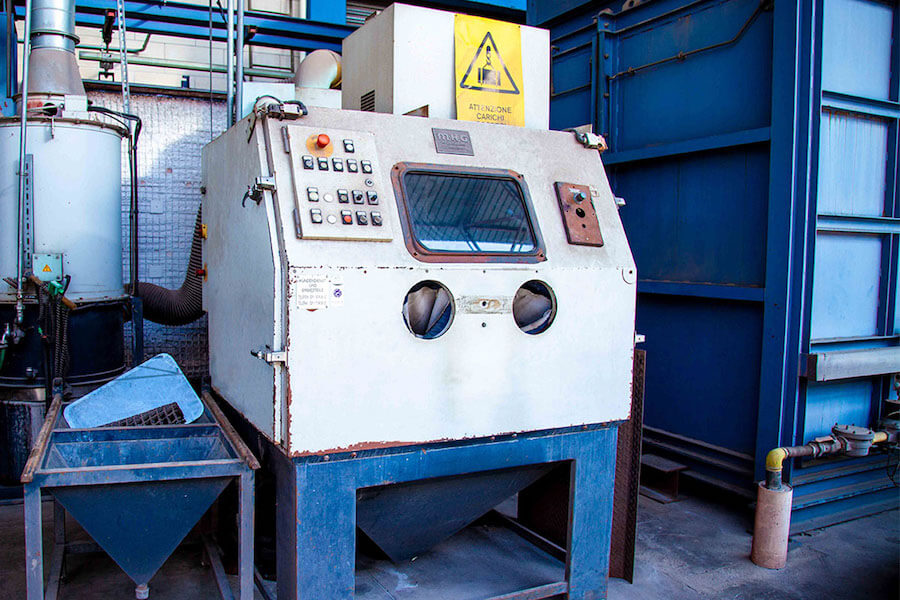 This bay is destined to the treatment of vacuum and pressure impregnation of the under repair electric rotary machines and to the following thermic cycle for the resins stoving.
The system:
Steel cylindrical body 3.150 mm inside diameter, 5000 mm in height; it is able to get to 0,01 mbar vacuum and bear 7 bar absolute pressure in room temperature.
Resins stockage tank.
Vacuum set.
Resins cooling and heating system with heat pump.
After the impregnation treatment, according to the prearranged cycles, the machine is set in autoair stove for
the drying process.
The temperature are checked by digital control device with an analogic one which draws the respective time/temperature diagram.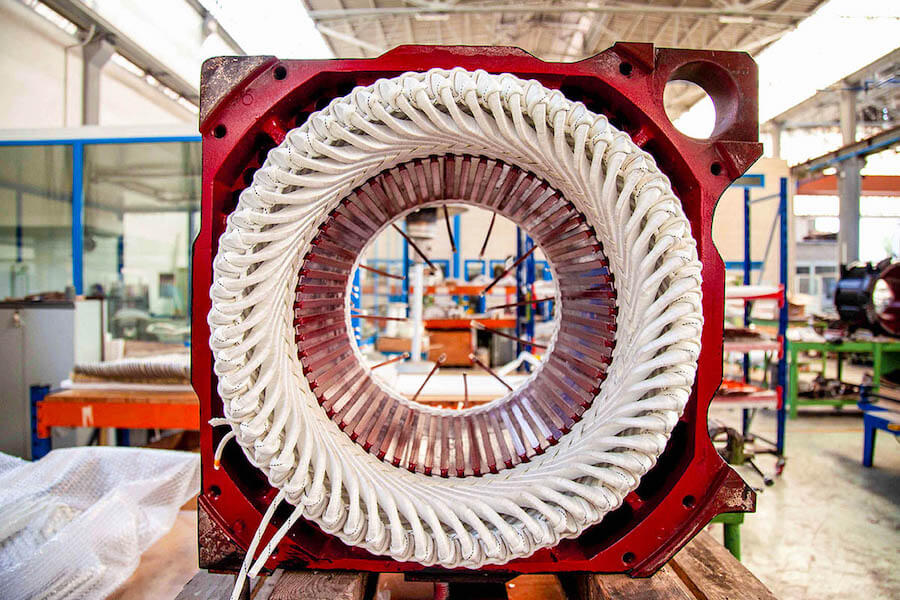 All the motors are subject to rigorous test both under construction and in the last face. We carries out electric and dimensional checks on every part before assembling. The testing area has sophisticated equipment to carry out all test provided for specification of the contracts. A.T. cc 50 Kv generator for strength test and measure ldp;
Multimeter for BBC bench.
150 kw frequency alternator set for rotation test.
24 Kv pulses generator of short circuit rolling up test.
Measure tg and and coil power differential.
Vibration detector.
Control board and connected test equipment for survey of every electric parameters.
Infra-red temperature detector.