Sustainability & Innovation
MATISA is a world leading manufacturer of rail construction equipment. MATISA has been striving for more than 70 years to ensure that outcome by designing and building the best track construction and maintenance machines that deliver track quality and precision that is acknowledged worldwide. It is by maintaining that production quality that we can accompany you proudly and confidently through your various future projects.
MATISA Plain Line Tamping Machine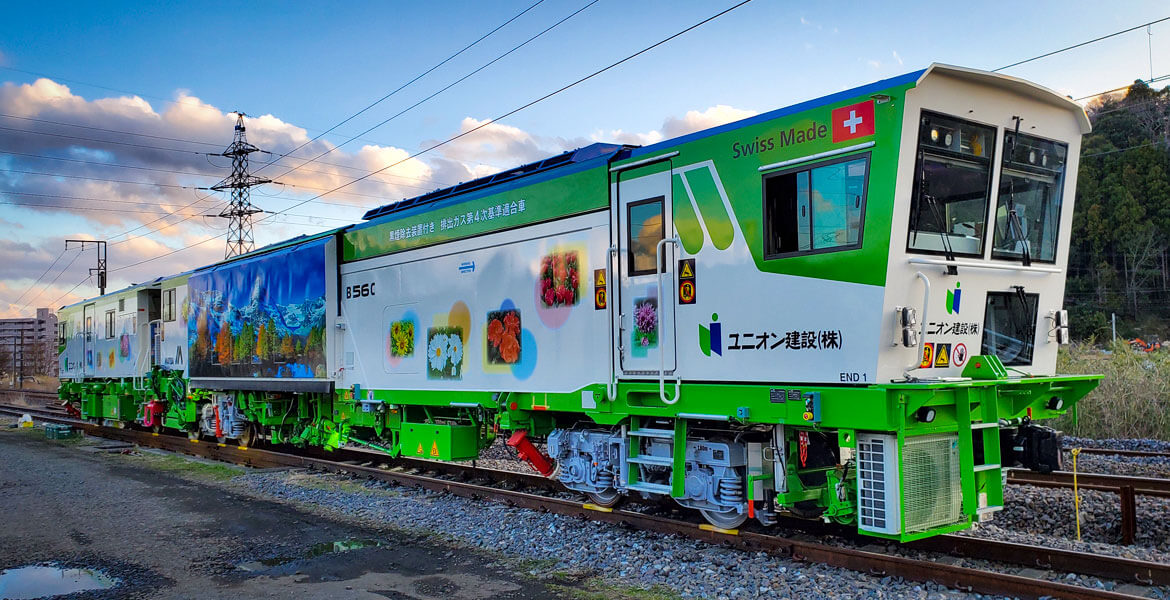 The B 56 C is a continuous action plain line single head tamping machine designed for normal lines on narrow gauge networks, Propelled by its own motorised axle, the tamping shuttle is fitted with four independent combined tamping units totalling 12 or 16 tools, a plain line clamp with a longitudinal movement as well as a measuring trolley. This machine has the distinctive feature of being fitted with tamping units taken from universal machines. The 12 tamping tool version has two external units with 4 tools, of which 2 can be overlaid, and two internal units with 2 wider tamping tools. Each unit of the 16 tamping tool version is fitted with 4 tamping tools of which 2 can be overlaid.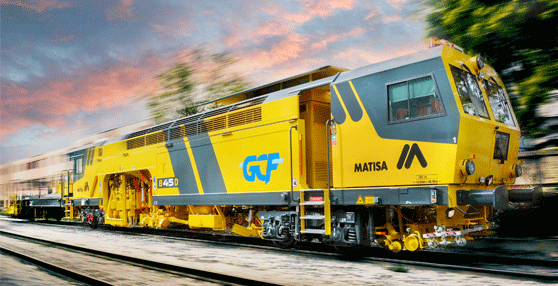 The B 45 D is a plain line, double head tamping machine designed for both normal and high-speed lines. Supported by two bogies, the machine has two cabins fitted with working and driving posts. This machine is equipped with a double roller plain line clamp and two independent, double head tamping units totalling 32 tamping tools. Fitted with high-frequency elliptical tamping technology, these units ensure an output of approximately 1,200 metres per hour, depending on worksite conditions and machine settings. The B 45 D is commonly used after high-output track renewal and ballast cleaning machines. The double roller clamp capacities, as well as the high tamping quality, enables substantial lifting corrections while ensuring a limited track settlement.
MATISA Universal Tamping Machine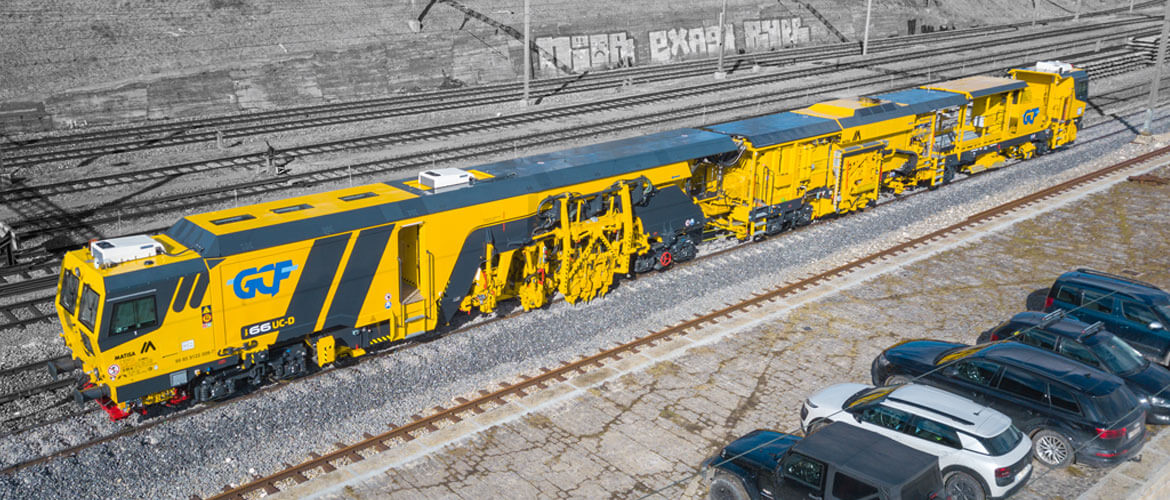 B 66 UC-D Tamping Machine
The B 66 UC-D is a high-performance universal, double head, continuous action, tamping machine designed for normal and high-speed lines. The B 66 UC-D consists of a tamping shuttle supported by two bogies and on which the machine frame rests. The power unit is located on the power unit trailer resting on a bogie and an axle.
The tamping shuttle is fitted with height independent tamping units, a lifting and slewing clamp, as well as two telescopic diverging track lifting devices to assist the lifting and slewing clamp when handling heavy switches and crossings. This machine is able to deal with switches and crossings as well as plain line in continuous mode. It can also perform this work in discontinuous mode if necessary. It can also be used as a single or double head machine, depending on site conditions. All these characteristics make it a very versatile machine
Universal Tamping machines are available also in models B 66 UC, B 66 U, B 41 UE, B 45 UE, B 38 AC/C and B 35 C ECO
MATISA Track Construction Trains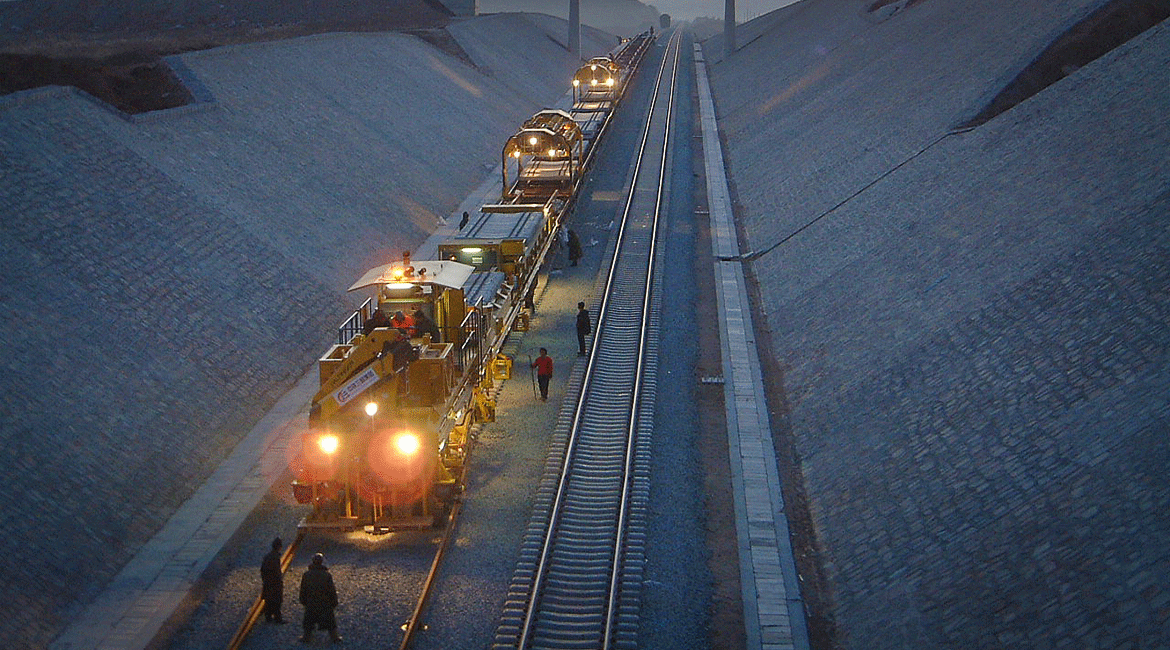 TCM 60/80 Track Construction Trains
The TCM 60 is a compact, high performance track construction train. It is fed by a gantry with a capacity of 20 sleepers. Its laying rate is of approximately 16 sleepers/minute. Its traction force allows working with a ~300 m long string of sleepers' carrying wagons. Its specific tools allow the positioning of the sleepers on the ballast bed applying a precise sleepers spacing and squaring. The positioning of the rails on the sleepers will also fulfil the utmost precision requirements.
The TCM 80 The TCM 80 is the enhanced and high performance version of MATISA's track construction trains. It is fed by a P 30 TR gantry with a capacity of 30 sleepers which loads them from a long string of sleepers' wagons. When coupled with a WCA wagon, powered by 4 driven axles (optional), the TCM 80 can handle a string of up to 500 m long sleepers and rail wagons. Equipped with the same tools as the TCM 60, the association of those equipment enables an optimized organization, operation and output of your worksites.
Available also in model TCM 60 R.
MATISA Track Renewal Train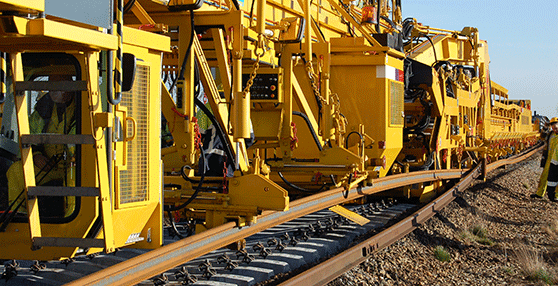 The new generation of P 95 is standing out not only by its improved output and performance, but also by its flexibility and its ecological design enabling its use to be more economical.
The P 95 track renewal train is a technological jewel, developed using our skills acquired over the years. Its level of quality and performance is, to this day, at the leading edge of research and allows us to offer you a very high degree of accuracy.
Available also in models P95 T and P190.
MATISA Ballast Regulators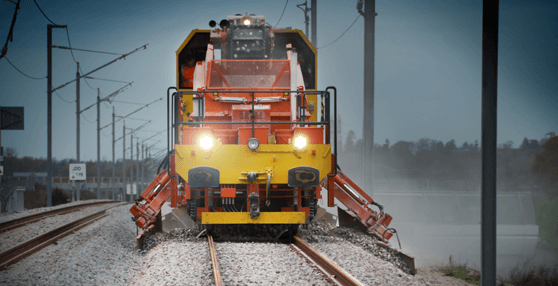 The R 24 is a high-output ballast regulator on bogies, especially designed for the construction and maintenance of high speed lines. It is equipped with a 10m3 hopper, expandable to 13m3 which allows the excess ballast recovery and redistribution to the areas with low ballast density. More powerful, it also offers more comfort as well as a more spacious and customizable cabin. This ballast regulator offers excellent modularity and will satisfy your most demanding needs.
Available also in models R21 and R 20/R 20 E .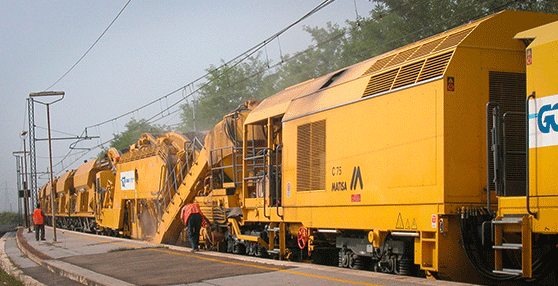 The MATISA C 75 is a compact, high-output ballast cleaner characterised by very quick and short ramp-in and ramp-out capabilities, enabling its deployment on very short as well as on longer, more complex worksites. Its efficient guiding system allows excellent work quality, safely using the full working gauge, even during ramp-in phase. Its dimensions ensure a ballast cleaning output of 750 m3/h and up to 1000 m3/h ballast excavation output. Its size warrants efficient logistic management and stabling possibilities within the worksite vicinity. The standard component selection eases maintenance activities, reduces costs while ensuring maximal availability. Of robust and flexible build, the working tools of the C 75 ballast cleaner enable worksite optimisation.