SUSTAINABILITY & INNOVATION
Engineering and Services Technology
Having a vast knowledge in many industries especially in measuring, controlling and motion, together with several applications backed with products from reputable partners.
Our offering starts from designing through manufacturing to supplying as well a bundle of services that address the major customer needs in our targeted markets.
Understanding the real customer need or the root of the problem is the key of our solutions whether it is a system malfunction or a simple spare parts supply.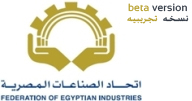 Federation of Egyptian Industries - FEI